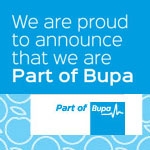 We're excited about becoming part of the Bupa Members First network! We still welcome all major health funds, but we can now offer additional benefits to our patients who are Bupa members with private health coverage and the relevant coverage level.
For members that are signed up for Bupa hospital and extras coverage, you'll be able to enjoy 60-100% back on general dental services.
Kids can benefit, too! Bupa members with the correct coverage can receive "Gap Free Dental" for children. This means that you won't have out-of-pocket expenses for general dental services like check-ups, x-rays, professional cleaning and more. This lasts until your child is 25! Before attempting to redeem "Gap Free Dental" for kids, make sure to check that you have extras cover for your child dependent, in combination with hospital cover.
We also recommend consulting with your local Bupa representative to discuss your coverage plan. Visit www.bupa.com.au for further information, or call us on (07) 5575 9100.