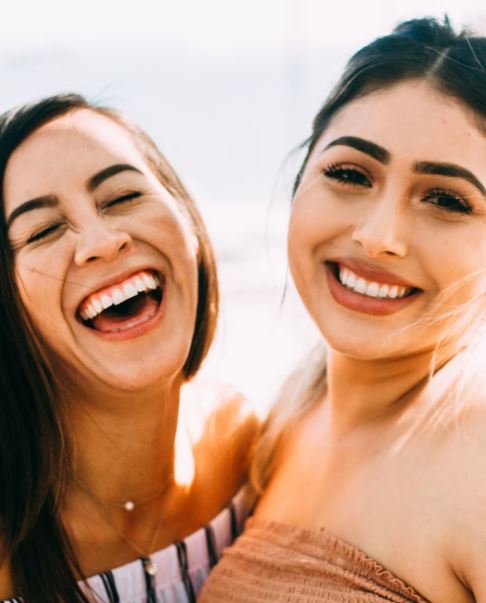 If you're not satisfied with the appearance of your teeth, you might be tempted by the range of whitening products available in stores or home remedies.
While some of these treatments may be effective, it can take several weeks or even longer to see noticeable improvements, and results are not guaranteed. Some dubious remedies can even risk damage to your teeth.
It is possible to make instant changes to your smile, but this requires treatment from a dentist. Only dental professionals are qualified to safely provide whitening treatments at stronger concentrations than are available to the public. They can also discuss other cosmetic dentistry treatments to help cover up stains or make other changes to your smile.
Teeth whitening
Teeth whitening treatments involve the careful application of bleaching gels to remove stains and other discolouration from teeth. Your dental professional will apply this gel evenly to your teeth and activate the whitening agents using a bright light.
In most cases, professional teeth whitening can be completed in a single visit to the dental clinic. Depending on the system used, it can take between 30 minutes and several hours to achieve your desired results.
At Robina Town Dental, we use Polaoffice+ whitening treatments. This safe and efficient system can usually reach the desired level of whitening in under 30 minutes, meaning your appointment could fit into a lunch break. The process is also designed to be gentle on sensitive teeth.
Home whitening kits
If you prefer to whiten your teeth at home, this can be cheaper than professional whitening, but it takes longer. Home whitening kits can take two or more weeks of daily treatments to be effective, whereas professional whitening can have instant results after a single visit to the dental clinic.
A take-home kit provided by your dentist can improve your results and lower the risks of home whitening compared to over-the-counter products. Our dentists in Robina can create custom-moulded trays that fit perfectly over your teeth to ensure even coverage of whitening gel and prevent spills.
What results can I expect from teeth whitening?
Teeth whitening is the most popular cosmetic dentistry treatment on the Gold Coast, but it has its limitations. Your dentist will let you know whether you're eligible for treatment and make sure you have a realistic idea of what to expect from your smile.
The level of whitening that can be achieved depends on the condition of your teeth and the treatment you choose. Generally, professional whitening can achieve better results than home treatments, increasing the whiteness of teeth by up to several shades.
Teeth whitening isn't a permanent solution however, and your white smile can fade over time. You can keep your teeth white for longer by avoiding sources of stains, scheduling top-up treatments or maintaining your smile with toothpastes or other products recommended by your dentist.
It's important to be aware that some types of tooth discolouration can't be treated with standard bleaching treatments, including teeth that have discoloured as a result of trauma or medication side effects. Prosthetic work such as fillings, crowns and bridges also won't be affected by whitening gels, so your dentist can discuss alternative solutions in these cases.
Is teeth whitening safe?
Your dentist will explain the possible risks of teeth whitening and the steps they will take to ensure your safety so you can decide whether the treatment is right for you. Teeth whitening risks can be reduced considerably when your treatment is provided by a dental professional or under their guidance.
If you choose teeth whitening at Robina Town Dental, our cosmetic dentist will protect your eyes and mouth during the treatment to ensure the bleaching gel does not touch your gums or other soft tissues.
If you choose a home whitening kit, we will provide custom-made trays that fit perfectly over your teeth. This lowers the risk of the bleaching gel contacting your gums or being swallowed.
Teeth can sometimes feel more sensitive after whitening. If you're worried about tooth sensitivity, we can discuss alternative treatments.
How much does teeth whitening cost?
The cost of teeth whitening varies depending on whether you have an in-office or home whitening treatment.
Professional teeth whitening at Robina Town Dental costs $650
A customised take-home whitening kit costs $200
Health funds do not normally cover the cost of teeth whitening and other cosmetic dentistry treatments. If you need help managing your treatment cost, we offer a choice of flexible payment plans to break down the cost into more affordable instalments.
Dental veneers
An alternative to conventional teeth whitening is covering discoloured teeth with veneers. Dental veneers are thin shells of porcelain, resin or other materials that a dentist places over teeth to instantly transform their appearance.
The use of veneers isn't limited to whitening either. They can also address many other aesthetic issues with teeth, including covering minor damage or wear, straightening slight misalignments or closing spaces between teeth.
Veneers may be recommended if your teeth are not suitable for chemical whitening treatments or if you want longer-lasting results. However, the treatment is more invasive and can be more expensive.
Porcelain vs composite veneers
We offer several options for veneers at Robina Town Dental, depending on your preferences and price range. The most common are porcelain veneers and composite veneers.
Porcelain veneers cost more, but they look more natural and are more durable than composite. These veneers are custom made based on impressions of your mouth and bonded to your teeth with dental cement.
Composite veneers are cheaper, but they can be duller in appearance and are more vulnerable to damage and stains. Resin is applied directly to teeth and hardened and polished to form the veneers.
Zirconia veneers are another option that are similar to porcelain in strength and appearance, but cost more.
Composite veneers were traditionally a faster treatment than porcelain, as porcelain veneers had to be manufactured off-site in a dental laboratory. However, CEREC technology now allows our Gold Coast dentists to produce ceramic veneers in a single appointment.
What results can I expect from veneers?
When your veneers are provided by an experienced cosmetic dentist, you can expect pleasing and natural-looking results, though this depends on the type of veneers you choose.
Porcelain veneers are a closer match to natural tooth enamel, so these offer superior aesthetic results to composite. You also won't have to avoid as many foods and drinks, though it's still important to take care of your veneers to avoid them chipping or cracking.
On average, porcelain veneers can last for 7 to 15 years before they may need to be replaced, while composite veneers can last half as long. It's important to keep the underlying teeth and gums healthy to prevent veneers from coming loose.
Are veneers safe?
Complications of veneers are rare when the procedure is performed by a qualified professional, but poorly fitted veneers can create an uneven bite, which may lead to jaw or TMJ pain.
Your dentist will usually need to remove a thin layer of tooth enamel so that your veneers can fit comfortably, particularly if you're having porcelain veneers. This can sometimes cause the tooth to feel more sensitive to temperature, though this may only be temporary.
How much do veneers cost?
The cost of veneers depends on how many teeth you're having covered and what type of veneers you choose. Our veneer prices at Robina Town Dental range from:
$1,200 to $1,600 per veneer for porcelain veneers
$350 to $500 per veneer for composite veneers
Veneer costs are not usually covered by health insurance, but we can discuss interest-free payment plans to help you manage the cost.
Dental crowns
If you want to correct more than just discolouration, another option could be dental crowns. Like veneers, crowns are placed over a tooth to change its shape or appearance, but they can also protect vulnerable teeth from damage.
Crowns can be made from porcelain, like veneers, or metal, if extra strength is needed. However, crowns require more preparation of the tooth and are generally more expensive. A same-day CEREC crown at our Gold Coast dental clinic costs approximately $1,650 per tooth.
How can I avoid tooth stains?
You can keep your smile whiter for longer or may even avoid the need for treatment in the first place when you practise good preventive care and avoid sources of stains. This includes:
Brushing your teeth twice a day using fluoride toothpaste
Flossing daily to reduce plaque
Avoiding coffee, wine and other staining food and drinks
Drinking through a straw to reduce contact of liquids with your teeth
Drinking water alongside meals and throughout the day
Quitting smoking
Visiting the dentist twice a year for a check-up and teeth cleaning to remove plaque
If you're visiting our Robina dentists for the first time, we're offering a New Patient Smile Package for $150. See all our current promotions.
Book a consultation with a cosmetic dentist on the Gold Coast
If you want to know more about teeth whitening or veneers and which treatments you're eligible for, call Robina Town Dental on 07 5575 9100 to book a consultation with our Gold Coast dentists or book online.
We welcome patients from all nearby suburbs including Burleigh Heads, Burleigh Waters, Clear Island Waters, Mermaid Waters, Merrimac, Miami, Mudgeeraba, Varsity Lakes and Worongary.
References
Healthdirect. Teeth whitening [Online] 2020 [Accessed September 2022] Available from: https://www.healthdirect.gov.au/teeth-whitening
Healthdirect. Veneers [Online] 2020 [Accessed September 2022] Available from: https://www.healthdirect.gov.au/veneers
Healthdirect. Dental crown procedure [Online] 2021 [Accessed September 2022] Available from: https://www.healthdirect.gov.au/dental-crown-procedure