Cosmetic dentistry has been a growing industry for some time now, resulting in countless happy clients walking out of the dentist's office with a smile on their face that they can be proud of. So what is it exactly that a cosmetic dentist does? How can you find a cosmetic dentist and be sure of their quality?
Read on to learn all the basics of cosmetic dentistry.
What's on offer at a cosmetic dentist?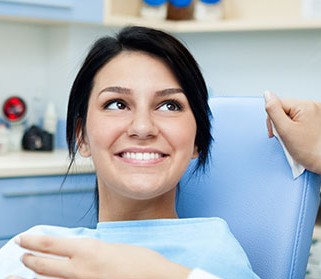 A cosmetic dentist is one who focuses on the appearance of your teeth and gums. While they are just as highly skilled and trained as a regular dentist, they are there to help you feel the best about your smile. As everyone is different, and everyone has different preferences and requirements, many cosmetic dentists offer a wide variety of treatments and procedures.
Here are some of the most common treatments offered by cosmetic dentists:
Orthodontics: Also known as braces orthodontics are used to improve misaligned teeth, under and overbites, crowding, and gaps. Children, teens and adults can all benefit from orthodontics with many different varieties on offer. From traditional metal or ceramic braces to lingual braces that sit behind the teeth or even clear aligners, like Invisalign™, there is an option to suit everyone.
Teeth whitening: When you think of cosmetic dentistry most people will automatically think of teeth whitening. Teeth whitening has become one of the most common dental treatments over the past few years thanks to its great results, low-cost and short timeframe. There are two different types of whitening treatments – in-chair and take home. In chair whitening can often be completed within the hour at your dentist's office. Meanwhile, take home whitening kits allow you to whiten your teeth progressively over two weeks in the comfort of your own home. Both treatments provide great results for most patients however, results will vary from patient to patient.
Veneers: Veneers are a great option for those with misaligned, cracked or chipped or discoloured teeth. Veneers are a wafer thin layer of material (either composite or porcelain) that is placed over the front of the tooth, giving it an improved appearance that is often more functional. Composite veneers provide a cheaper option however, they usually only last five to seven years meanwhile, porcelain veneers should last 10+ years and are less prone to staining. During your initial consultation, your cosmetic dentist will go into further detail about the different options and discuss which option is best for you.
Dental Implants: Tooth loss can be the result of many causes including injury, tooth decay, infection, gum disease, natural causes or other lifestyle factors. Dental implants may be the suitable permanent solution to consider when replacing missing teeth. They provide a great alternative to removable partial or complete dentures. Dental implants are made of titanium and act as an artificial root which is surgically placed into the upper or lower jaw bone. The implant naturally fuses into the jawbone over a period of approximately three months. Once fused, a replacement tooth (abutment) is carefully sculpted and attached to the implant. Mimicking the aesthetic look of a natural tooth, full function is restored and you can walk out with a brighter and healthier smile.
Full Mouth Smile Makeovers: A full mouth smile makeover is a comprehensive dental plan that is developed in consultation with your cosmetic dentist. Depending on your oral health requirements and overall goals, a smile makeover might include a variety of cosmetic and surgical procedures to improve the aesthetic look of your smile. Your initial consultation will cover a comprehensive oral examination to understand what is happening in your mouth. This includes a scale and clean, assessment of your gums and sometimes, the use of an intraoral camera. A series of x-rays may be taken also. This allows the dentist to assess and advise on the most suitable options available to you.
How to find a good cosmetic dentist

When you're looking for a cosmetic dentist you can trust, be sure to tick a few important boxes.
First, take a look at their past work. He or she should have a portfolio of before and after photographs that you can view to decide if you like the type of results he or she can offer you. You will also want to see his or her credentials and experience - how many years have they been practising? What kind of qualifications can they offer?
Finally, you will want to sit down and talk to your potential cosmetic dentist. It's important that you feel like there is good communication between you, where he or she clearly explains any procedures, and you feel comfortable to ask questions and share your expectations for the work.
Popular treatments at Robina Town Dental

Robina Town Dental on the Gold Coast offers cosmetic dentistry procedures with only top-of-the-line equipment and the very best in experience and service.
While all services available at Robina Town Dental are excellent, the most common include dental implants, full mouth smile make overs, orthodontics, veneers, gum lifts and teeth whitening.
If you'd like to discuss the best options for your smile, talk to the team and learn what would work for you.