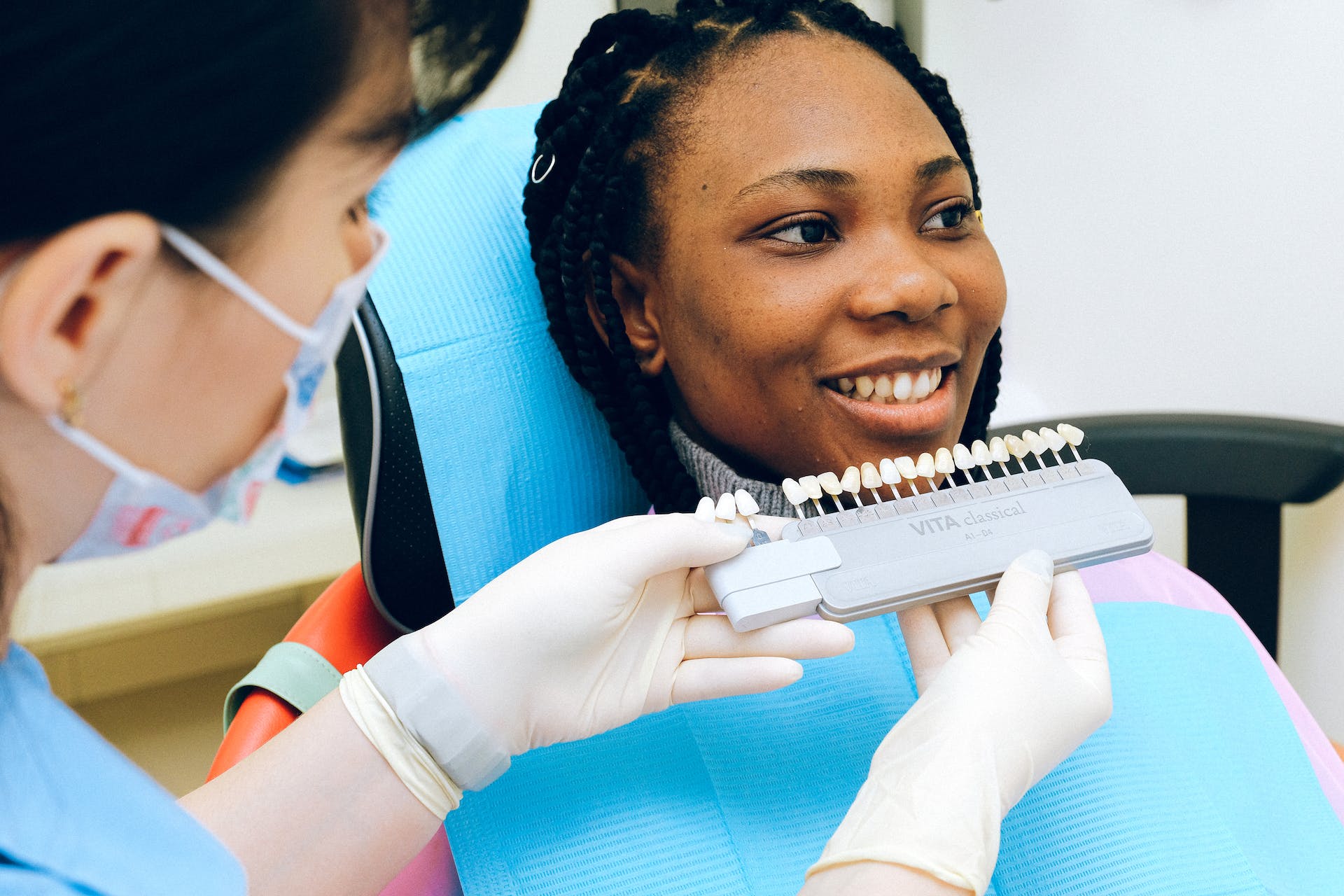 ---
Yellow, stained or discoloured teeth are one of the most common cosmetic concerns among Australian adults. Whether teeth have discoloured naturally with age or due to diet or lifestyle factors, they can affect a person's confidence and may be a sign of an underlying oral health problem.
Yellow teeth won't whiten by themselves, but the good news is that there are now many ways dentists can restore lost whiteness. From dental hygiene treatments to teeth whitening and veneers, the best whitening treatment for you will depend on what caused the discolouration and what results you want.
Why do teeth turn yellow?
There are many reasons why teeth can lose their whiteness. Common causes of tooth stains and discolouration include:
Poor oral hygiene leading to tooth decay and plaque and tartar build-up
Tooth wear from acids, teeth grinding or natural ageing breaking down the enamel
Stains from food and drink with strong pigments (e.g. tea and coffee, red wine, soft drinks, tomato sauces, berries)
Nicotine stains from smoking
Side effects of certain medical conditions, medications or supplements
Trauma from an injury or dental procedure
Genetics
Your dentist will need to determine the likely cause and the type of tooth discolouration you have before they can recommend suitable treatments.


How can I whiten my smile?
Some teeth staining can be prevented or reduced by avoiding certain foods and drinks or addressing other habits, such as improving your tooth brushing or giving up smoking. However, discolouration that's already present can only be effectively treated by a dental professional, or following their guidance.
Based on your individual situation, treatments for yellow teeth may include:
Oral hygiene treatments at the dental clinic
Teeth whitening treatments (in-chair or a custom take-home kit)
Dental veneers (porcelain or composite)
Your dentist will explain what each treatment option involves during your initial cosmetic consultation so you'll have an idea of what to expect and can make fully informed decisions.


Oral hygiene treatments
A good brushing and flossing routine can help prevent the build-up of yellow plaque on teeth, but plaque that hardens into tartar (calculus) can only be removed by a professional. However well you care for your teeth, it's still important to visit a dentist once or twice a year for a check-up and hygiene treatments.
During your check-up, your dentist will examine your teeth for signs of decay and other problems and can discuss any treatments that could benefit you. Your teeth will then be professionally cleaned and scaled by an oral hygienist to remove surface stains. Finally, fluoride will be applied to provide a layer of protection.
If you have sensitive teeth or gums, our hygienists at Robina Town Dental offer EMS Airflow® technology using guided biofilm therapy (GBT) for a gentler alternative to traditional teeth cleaning. This minimally invasive approach uses air, water and powder to avoid direct contact with teeth.
See our current promotions for details about our New Patient Smile Package & Professional Clean at our Gold Coast dental clinic.


Teeth whitening treatments
If your teeth are still yellow or stained after a professional clean, cosmetic teeth whitening may be an option. Whitening treatments involve applying specially-formulated bleaching gels to teeth to remove stains and brighten their appearance by several shades.
The two options for professional teeth whitening are in-chair whitening and take-home whitening kits.
Who is suitable for teeth whitening?
A consultation with a dentist is a necessary first step to determine whether teeth whitening is an option for you. How much whitening can be achieved depends on the type of treatment and the type of staining you have.
Teeth bleaching is generally effective at removing stains from plaque, food and drink and tobacco, but it may not be effective at removing other types of discolouration. You also can't whiten crowns, fillings or other dental work, which you may choose to have replaced to match your new smile.
In-chair teeth whitening
In-office bleaching provided by an experienced dental professional is the fastest and safest option for whitening your smile. Dental practitioners are qualified to apply bleaching gels in higher concentrations than are permitted for home use, which normally lead to instant results and minimal sensitivity.
At Robina Town Dental, we offer in-chair teeth whitening using the Polaoffice+ whitening system. This efficient system can whiten teeth in less than 30 minutes for reduced chair time and an improved patient experience.
Take-home teeth whitening kits
If you prefer to whiten your teeth at home, a customised kit provided by your dentist and used following their instructions can offer improved results and safety compared to a generic whitening product bought over the counter or online.
Our Gold Coast dentists provide tailor-made home whitening kits with specially-formulated gel and custom trays based on impressions of your teeth. This helps to ensure even coverage of the whitening gel and to prevent spills.
A take-home kit is a cheaper alternative to in-chair whitening, but the treatment time is considerably longer and it can take up to 2 weeks to reach your desired level of whitening.
Is teeth whitening safe?
Teeth whitening is a widely-performed cosmetic dental procedure and has minimal risks when the treatment is provided by a registered dental professional or following their guidance. However, your dentist will still make sure you're aware of the possible risks and side effects, which may include:
Teeth feeling more sensitive (usually temporary)
Tooth enamel being weakened by excessive whitening
Chemical burns or blisters if bleaching gel contacts the gums or mouth
Accidental swallowing if gel is spilled
How long does teeth whitening last?
Another important thing to know about chemical teeth whitening is that the effects aren't permanent and will eventually fade. This could happen after several months or several years, depending on how well you look after your teeth and avoid sources of stains.
You can keep your teeth white for longer with top-up treatments provided at the dental clinic or using a take-home kit.


Dental veneers
Another cosmetic dentistry option is dental veneers. These are thin restorations bonded to the surfaces of teeth to change their appearance.
Depending on the type of veneers you choose, your dentist may need to prepare the underlying tooth first by removing some of the enamel. This will permanently alter the tooth surface, so careful consideration is needed to decide whether veneers are right for you.
The two common types of veneers are porcelain veneers and composite resin veneers. Other materials and options may also be offered, such as zirconia veneers.
Who is suitable for veneers?
One advantage of veneers over teeth whitening is that they can cover up a wider range of imperfections in teeth. As well as whitening yellow teeth, veneers can also cover up chips and cracks, correct minor misalignment and gaps, or alter the size and shape of teeth.
You may not be suitable for veneers if your teeth are too small or worn to support the veneers or if you have an existing oral health problem such as gum disease that could cause the veneer to fail.
Porcelain veneers
Porcelain veneers cost more than composite, but the result is stronger, longer-lasting veneers that look more like natural teeth. Placing porcelain veneers first involves removing a thin layer of enamel from the teeth so the veneers won't protrude. Your dentist will then take impressions of your teeth to create your custom veneers.
Traditional porcelain veneers can involve multiple appointments and a waiting period as the veneers need to be custom made at a dental laboratory. However, at Robina Town Dental we offer same day porcelain veneers using CEREC technology.
Composite veneers
An alternative to porcelain veneers, composite veneers are built directly onto the tooth by applying composite resin in layers and hardening it using high-intensity light. The surface is then sculpted and polished for the desired finish.
Composite veneers are a same day procedure and cheaper than porcelain veneers, but they have their limitations. Their surface lacks the translucency of porcelain and is more prone to damage and stains. As a result, composite veneers generally only last half as long before they need to be repaired or replaced.
Are veneers safe?
Dental veneers are a non-surgical and minimally-invasive treatment. Complications will be minimised when you choose a qualified and experienced cosmetic dentist using high-quality materials, but your dentist will still make sure you know what to expect.
You may find that your teeth feel more sensitive after enamel is removed, but this should be reduced once veneers are fitted. Removing enamel will permanently alter your teeth, which can mean committing to veneers for life.
How long do veneers last?
A white smile with veneers will generally last longer than teeth whitening, but how long depends on the type of veneers you choose and how well you look after them. Porcelain veneers can last 10–12 years on average, while composite veneers may need to be replaced after 4–8 years.


Teeth whitening and veneers Gold Coast
If you want to know your options for removing stains and whitening your smile, book a consultation with our experienced cosmetic dentists at Robina Town Dental. We'll examine your teeth, discuss your concerns and give you all the information you need to decide what's best for you.
Call our team today on 07 5575 9100 or book online. We welcome patients from all nearby areas including Burleigh Heads, Burleigh Waters, Clear Island Waters, Mermaid Waters, Merrimac, Miami, Mudgeeraba, Varsity Lakes and Worongary.