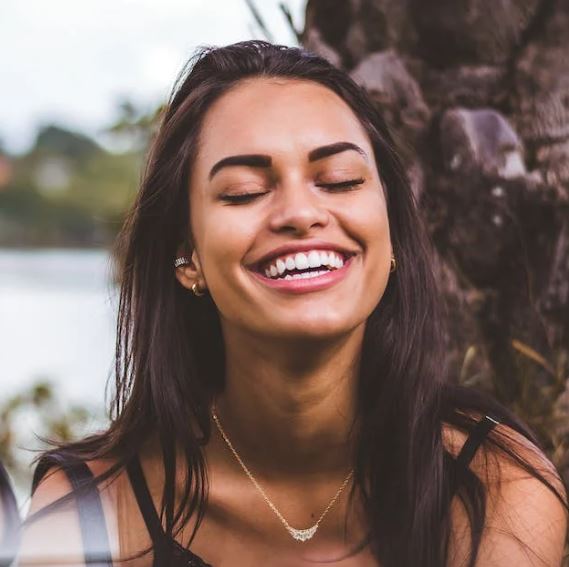 If you're considering cosmetic dentistry treatments to make changes to your smile, you've probably come across veneers. These custom-made coverings for teeth can be an option for everything from covering up stains and blemishes to changing the size, shape and alignment of teeth.
If dental veneers sound too good to be true, a consultation with an experienced cosmetic dentist will give you all the information you need to decide whether they might be right for you. In the meantime, this introduction to the pros, cons and alternatives to veneers could give you some ideas.
What are veneers?
Dental veneers are thin layers of porcelain or composite resin that are sculpted to perfectly fit over teeth. They replace the front surface of teeth to cover up imperfections and leave you with a more attractive and balanced smile.
Veneers may be made from several materials, depending on your preferences and price range. They can be matched to your natural tooth colour for a seamless finish or whitened if preferred.
Porcelain veneers are made from porcelain ceramic that has a similar appearance and strength to natural tooth enamel. These veneers are custom made outside the mouth and then bonded to teeth.
Resin veneers are made from a composite resin that's applied directly to teeth and hardened. This can be a faster and cheaper option, but composite veneers are less resistant to damage and stains than porcelain.
Zirconia veneers are another exceptionally durable and aesthetically pleasing option that can be an alternative to porcelain veneers.
Veneers are considered a cosmetic dental treatment, but they may also offer some protection for weak or vulnerable teeth. If more protection or correction is needed, your dentist can discuss alternative treatments.
Why choose veneers?
Veneers won't be the only option for enhancing your smile, but they do have a number of distinct advantages over other cosmetic dentistry treatments. These include:
Suitable for a wide range of conditions
As veneers replace the surface of teeth, they can cover up many different aesthetic issues, including:
stains or discolouration from food and drink, smoking, trauma, tooth wear, medical problems or medication side effects
minor chips or cracks on teeth
slightly crooked or misshapen teeth
gaps between teeth
Natural appearance
Porcelain veneers have similar translucent and reflective properties to natural tooth enamel, making them look just like real teeth. Composite veneers can be a little duller, but just as convincing when not used for the most visible front teeth. Your dentist or prosthetist will use materials in natural tooth shades.
Fast results
Composite veneers can usually be completed in a single visit to the dental clinic. Porcelain veneers normally involve two visits, as impressions need to be taken of your teeth and your veneers will be custom made before being bonded to your teeth.
In comparison, home teeth whitening may take several weeks to remove stains, while orthodontic treatment can take 6 months or longer for minor correction of teeth.
Long-lasting
Porcelain and zirconia veneers can last for many years before they need to be replaced. Composite veneers usually need to be replaced sooner, but can last longer when you take steps to prevent damage or stains and maintain good oral hygiene to keep the underlying teeth healthy.
Teeth whitening treatments have a much shorter lifespan before they fade, usually needing to be repeated after 6 months to a year.
Disadvantages of veneers
It's important to have a balanced overview of any treatment you're considering. Some possible downsides of veneers for certain people include:
Not suitable for everyone
Veneers can treat a broader range of issues than most dental or cosmetic treatments, but they have their limits. If your teeth have more substantial chips, cracks or misalignment, you could benefit from a different treatment, such as crowns or orthodontics.
You also may not be a candidate for veneers if:
you have poor oral health or a problem such as gum disease that could affect your treatment
your teeth are too small, thin or weak to support veneers
you grind or clench your teeth, which can damage veneers
Your dentist will let you know if you are suitable for veneers during your consultation, along with any treatments that could make you eligible, such as improving your oral hygiene or wearing a night guard to prevent teeth grinding during sleep.
Permanent alteration
Depending on the type of veneers you choose and the condition of your teeth, your dentist may need to remove a thin layer of enamel and roughen the tooth surface first to help the veneers attach.
This means you will need to continue replacing your veneers if they get damaged or to discuss other treatments such as bonding that may restore the surface of your teeth.
Teeth sensitivity
If your dentist needs to remove a thin layer of enamel (more common for porcelain veneers), there is a risk that your teeth may feel more sensitive to temperature and pressure afterwards. This may stop once the veneers are bonded or may fade over time.
Can be expensive
Veneers cost more than most cosmetic treatments, but this depends on the type of veneers you choose and how many you need. Porcelain veneers cost around twice as much as composite veneers, but they have distinct advantages and may last for twice as long. Zirconia veneers are the most expensive option.
Are veneers safe?
Your dentist will make sure you know the possible risks of veneers. As a minimally-invasive and non-surgical procedure, the risks of veneers are minor and can be reduced when your treatment is provided by an experienced dentist, but they can include:
teeth feeling more sensitive after enamel is removed
jaw pain or bite problems if veneers are poorly fitted
veneers coming loose and exposing the teeth if poorly bonded
You may feel a little discomfort in your gum or jaw after veneers are fitted, which may be relieved by taking normal pain medication. Your dentist will normally arrange a follow-up appointment so they can check that your veneers have fully bonded and are not causing problems.
How long do veneers last for?
Your veneers should last for many years when you take good care of them, but the average lifespan is around:
4 to 8 years for composite veneers
7 to 15 years for porcelain veneers
10 to 30 years for zirconia veneers
Veneers don't require special care, but you should keep up with your regular toothbrushing and flossing routine, avoid very hard foods and too much sugar in your diet, and visit your dentist every 6 to 12 months for a check-up and plaque removal.
What are the alternatives to veneers?
Your dentist will make sure you know all of your options so you can make a fully informed decision about which cosmetic or dental treatments is best for you. Veneers alternatives will depend on what exactly you want to achieve, but the most common options are:
Dental bonding
Tooth bonding uses a composite resin similar to a composite veneer or filling. This may be applied to teeth to patch over small chips, cracks, discoloured areas or other blemishes, or to build up the tooth.
Bonding is a quick and painless procedure and may be an alternative to composite veneers if you only need to cover up certain parts of a tooth rather than the whole tooth.
Teeth whitening
If your main purpose with veneers is to cover up stained or discoloured teeth, teeth whitening treatments using bleaching gels applied to the teeth could be a cheaper alternative. These treatments may be provided by a dentist or using a home whitening kit.
However, treatments using bleaching gels are more limited in the type and degree of discolouration they are able to treat. Generally, teeth whitening is only effective at removing stains from food, drink and smoking, and not internal discolouration from injuries or medication that may require veneers.
Dental crowns
Dental crowns are similarly versatile to veneers in that they can be an option to restore a damaged, misshapen or misaligned tooth. The main difference is that a crown covers the biting surface of the tooth rather than just the front, so they are also used to protect and restore the integrity of teeth.
Your dentist will let you know whether a crown or veneer is necessary for the changes you want to make and the pros and cons of both options.
Orthodontics
If any of your teeth are slightly crooked or have gaps, orthodontic treatment is a more conventional option for bringing them into line. These treatments may take 6 months or longer for relatively minor corrections, but may be more affordable than veneers.
Orthodontic treatment will usually be recommended if your teeth need more straightening than can be achieved with veneers. If you don't like the thought of traditional braces, your dentist may discuss other options such as Invisalign® clear aligners.
Book a veneers consultation in the Gold Coast
If you want to know more about veneers and whether they could be right for you, make an appointment with our Gold Coast dentists. We'll assess your suitability and give you all the information you need to make an informed decision.
Call Robina Town Dental today on 07 5575 9100 or book a consultation online. We are conveniently located in Robina Town Shopping Centre and we welcome patients from all nearby Gold Coast suburbs, including Burleigh Heads, Burleigh Waters, Clear Island Waters, Mermaid Waters, Merrimac, Miami, Mudgeeraba, Varsity Lakes and Worongary.
References
Healthdirect. Veneers [Online] 2020 [Accessed April 2023] Available from: https://www.healthdirect.gov.au/veneers